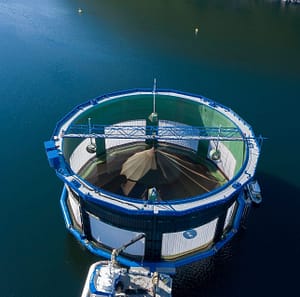 Semi closed cage with abundant water exchange
Aquatraz is developed by Seafarming Systems for and in cooperation with Salmar under the development licesnes scheme. Four cages was built and placed in production between 2018 til 2020. All four cages have been in full production since delivered with excellent biological and financial results.
Lerøy has also chosen Aquatraz as part of their investments in semi closed technology. The new Aquatraz S1 is a result of learning from Aquatraz G1-G4, and valuable input from Lerøy. It has a top steel structure and a skirt below providing 20 meter of water tight lice protection.
Aquatraz have documentet exellent lice protection. Comparing production results in Aquatraz with adjacent conventional cages show significant higher margins in Aquatraz. Production cost in Aquatraz accounting for the larger investment was significantly lower than production cost for the adjacent conventional cage. Due to the protection from escape and excellent water exchange the Aquatraz cages have received dispensation from the government to hold twice as many individual fish per cage and increase the density from 25 kg/m3 to 45 kg/m3. 
Aquatraz will be commercially available from 2024.
For more information please contact:

Alf Reidar Sandstad Daglig leder

+47 41 55 73 05


moc.s

1702064447

metsy

1702064447

sgnim

1702064447

rafae

1702064447

s@sra

1702064447